Lingerie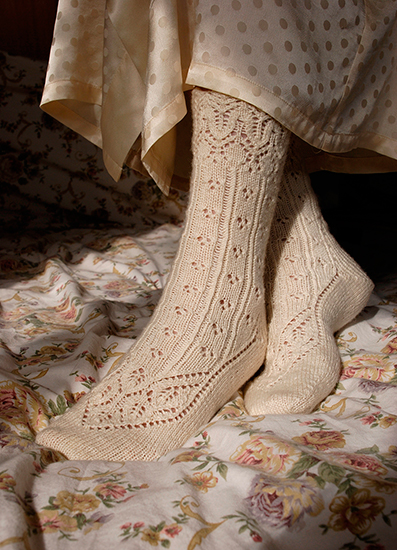 6 $.
Payment is through Paypal via Ravelry. You don't need an account
with either company, but if you have a Ravelry account, you can store
the pattern file in your Ravelry library.
Errata
(Knitty version)
With kind help from knitters I have found the following problems:
Foot Chart Bottom and Foot Chart Top are meant to be assembled together into one chart. Bottom refers to the bottom of the chart, not the bottom of the foot (sole).
Gusset setup round:
Pattern: Work Foot Chart across instep sts
Should be: Work Foot Chart Bottom across instep sts
Charts:
foot Medium bottom
On row 15 and 16 there is one stitch too much (stitch #39)
Toe decreases:
Pattern: "Continue as established until Foot Chart row 42/46 is complete."
Should be: row 60/64 as the chart is numbered. (row 42/46 if counting from the beginning of the Foot Chart Top)
Toe round:
Pattern: Continue Chart F across instep
Should be: Continue Foot Chart across instep
Jag älskar fyrtiotalets stickade underkläder. Kvinnliga detaljer som en bred spets i nederkanten på ett linne, en spetsisättning i halsringningen, en bred ribbstickning med ett litet spetsmönster, och en smal 1x1 ribbstickning där man vill ha lite figurformning. Men jag är inte så säker på att stickade underkläder skulle vara så praktiskt. Så jag har samlat de här detaljerna till något mer användbart, en spetssocka.
Den är stickad i ett härligt silkesblandat garn (Regia Silk), och precis varm nog att skydda mot de första svala höstvindarna, och fina nog att visa upp i favoritsandalerna. Eller unna dig själv en lyxig bäddsocka som håller dina fötter varma under kalla vinternätter.
Lingerie publicerades först i Knitty, och finns där gratis fortfarande. Nya, uppdaterade diagram finns här.
Detta är en utökad version, med två storlekar till, (S, M, L, XL), tre olika längder på spetsmudden, och en mer rundad tå som alternativ. Spetsen på tån har räknats om för att passa S och XL. Instruktionerna har ändrats en aning för större tydlighet, och en vägledning för en osynlig sammanfogning av tån (grafting) har inkluderats.
Mönstret består av 27 sidor, men det är bara nödvändigt att skriva ut 3 sidor för instruktionerna, plus de relevanta diagrammen.
Konstruktion
Sockarna stickas uppifrån och ned. Hälen med avkortade varv blir djupare med hjälp av små osynliga kilar som har gömts i mönsterstickningen, vilket gör att den passar bra även på oss med höga fotvalv.
Storlekar och mått
S, M, L, XL 
Passar fotomkrets: 17.5, 20, 22.5, 25 cm 
Färdig fotlängd: 21, 23, 25, 27 cm
Garn
100 g 100 g Regia Silk 4-ply/4 fädig (Uni/Solid)
Stickfasthet
36 m, 48 v på 10 cm i slätstickning (9 m per tum)
Stickor och markörer
2mm strumpstickor eller rundsticka/or
Sockarna kan stickas med strumpstickor, två rundstickor, eller en lång med Magic Loop.
Mönstret finns på svenska.
I love the look of the knitted lingerie of the 1940's. Feminine details like a wide lace border at the hem of a camisole, a lace insertion at the neckline, broad ribbing with a small lace pattern, and narrow 1x1 ribbing in places where you'd want a little shaping. But I'm not sure that knitted underwear would be very practical. So I've gathered all these details into something more wearable, a delicate lace sock.
Knit in a delicious silk blend (Regia Silk), it is just warm enough to ward off the first chill of autumn, and pretty enough to show off in your favorite sandals. Or treat yourself to a luxurious bed sock to keep your feet warm on a cold winter night.
Lingerie was first published in Knitty, and is still available there for free. New, updated charts for M and L can be downloaded for free. These have my usual symbols, and a few errors have been corrected.
This is an expanded version, with two more sizes (S, M, L, XL), three different cuff lengths and a rounded toe option. Toe lace portion has been recalculated to fit size S and XL. Instructions have been slightly altered for greater clarity, and a tutorial for grafting using knitting needles is included.
While the pattern file consists of 27 pages, it is only necessary to print 3 pages for the instructions, plus relevant charts.
Construction
This design is worked toe up, starting with a figure eight cast on, or invisible cast on of your choice. The short row heel is made deeper with a small gusset, which gives a good fit even for us with high arches. The leg ends with a lace edge whick is worked perpendicularly to the sock.
Sizes & Finished Measurements
S, M, L, XL 
To fit foot circumference: 7, 8, 9, 10 inches, 17.5, 20, 22.5, 25 cm 
Finished foot length: 8.5, 9, 9.5, 10 inches, 21, 23, 25, 27 cm
Yarn
100 g Regia Silk 4-ply/4 fädig (Uni/Solid)
Gauge
36 stitches and 48 rows = 4" in stockinette (9 sts/inch)
Needles and notions
US #0 (2 mm) DPNs, or circular/s
This design can be worked with double pointed needles, two circular needles, or one long circular needle for Magic Loop.