Maline shawl/sjal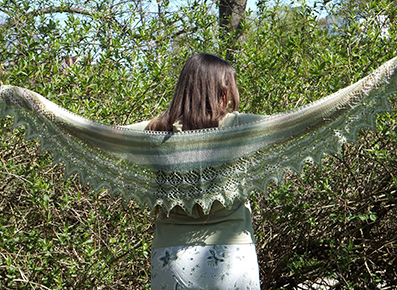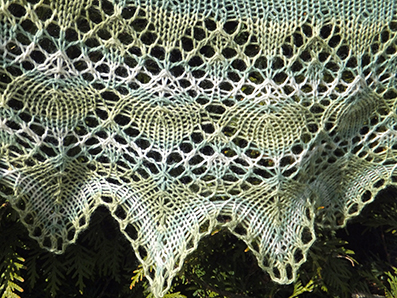 PDF pattern

6 $
Payment is through Paypal via Ravelry. You don't need an account
with either company, but if you have a Ravelry account, you can store
the pattern file in your Ravelry library.
See this pattern on

Ett spetsmönster från artonhundratalet kallat "Malines spets". Malines (eller Mechelen på tyska) är en belgisk stad som var berömd för sin knypplade spets. Spetsar var dyrt, och detta spetsmönster ansågs troligen vara en lämplig ersättning som damerna själva kunde tillverka av tunn bomullstråd. Här har jag använt det till en smal, halvmåneformad sjal som stickas nerifrån och upp, formad med avkortade varv.
Mönstret har både diagram och skrivna instruktioner.
Mått
145 cm bredd, 35 cm mitt bak, 25 cm i ytterkanterna.
Garn
Sockgarn, 400 m/100 g
Sjalen på fotona är stickad i Knit One, Crochet
Too: Ty-Dy Socks, 1518 Meadow.

Sjalen använder ett helt 100 g nystan – jag hade bara 2 m kvar. Du kan behöva lite extra garn.
Stickfasthet
(10 m)≈ 6.5 cm, 
16.5 m över 10 cm i slätstickning, efter blockning.

Masktätheten är inte så viktig, men påverkar naturligtvis den färdiga storleken.
Stickor
3,5 mm

A 19th century lace pattern, described as "Maline
Lace". Malines (or Mechelen in German)
is a Belgian town which was famous for its fine
bobbin lace. Fine laces were expensive, and this
pattern was probably deemed a suitable substitute
that the ladies could make themselves in fine
cotton thread. Here, I have used it in a narrow,
crescent shaped shawl, worked from the bottom
up and shaped with short rows.
The pattern has both charts and written instructions.
Measurements 
145 cm/57" across, 35 cm/13.75" at center back, 25 cm/10" at edges.
Yarn
Sockyarn, 400 m/100 g
The sample was knit in Knit One, Crochet Too: Ty-Dy Socks, 1518 Meadow.
The shawl will use an entire 100 g skein – I only had 2 m left over. You may need some additional yarn.
Gauge 
1 Lace pattern repeat (10 sts)≈ 6.5 cm/2.5", 
16.5 sts over 10 cm/4" in stockinette, after blocking.

Gauge is not important, but will obviously affect finished size.
Needles
3.5 mm/US# 4