Veil of Maya scarf/halsduk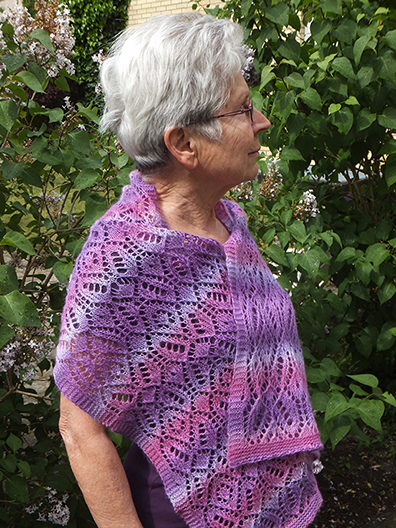 PDF pattern

6 $
Payment is through Paypal via Ravelry. You don't need an account
with either company, but if you have a Ravelry account, you can store
the pattern file in your Ravelry library.
See this pattern on

Mayas "slöja" är enligt hinduismen den illusion
som döljer verklighetens fundamentala enhet
bakom den skenbara mångfalden. Maya, eller på
svenska, Maja, är också min mammas namn,
och den här sjalen var en present till henne.
Mönstret har både diagram och skrivna instruktioner.

Mått
Utspänd till 40x155 cm
Efteråt ≈ 35x150 cm
Garn
Sockgarn, 400 m /100 g
Fotograferad i Stoff&Stils Wool Blend, lila/rosa.
Stickfasthet
1 rapport av spetsmönstret (20 m)≈ 10 cm efter
utspänning.

Masktätheten är inte så viktig, men påverkar naturligtvis den färdiga storleken.
Stickor
3,5 mm

Mayas "veil" is according to hinduism the illusion
that hides the unity of the fundamental reality,
behind an apparent diversity. Maya, or in
Swedish, Maja, is also the name of my mother,
for whom this stole was made as a gift.

The pattern has both charts and written instructions.
Measurements 
Block to 40x155 cm (15.5x61")
Relaxed ≈ 35x150 cm (14x59")
Yarn
Fingering weight, 400 m (436 yds) /100 g
Sample in Stoff&Stil, Wool Blend, lila/rosa.
Gauge 
1 Lace pattern repeat (20 sts)≈ 10 cm (4") after
blocking.

Gauge is not important, but will obviously affect finished size.
Needles
3.5 mm/US# 4